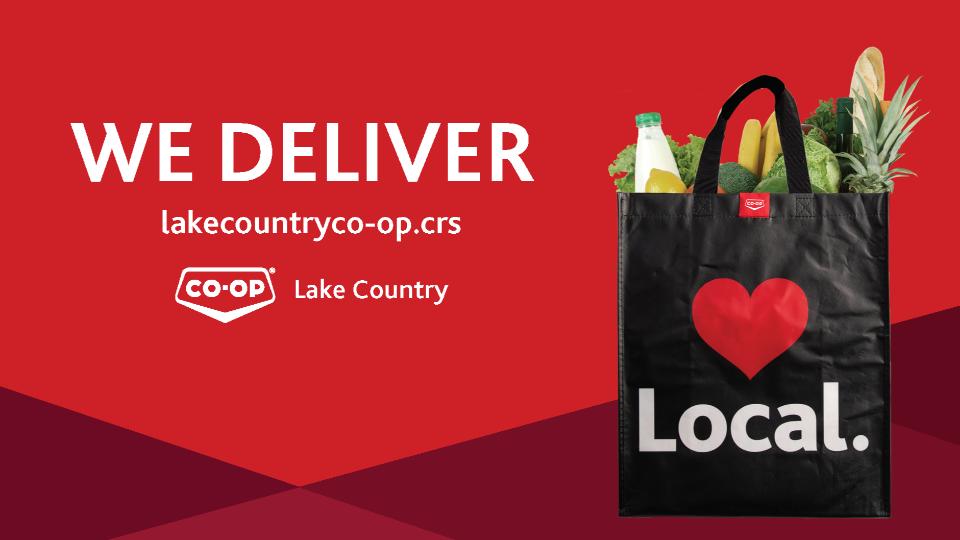 Delivery & Curbside Pickup
April 13, 2020
Lake Country Co-op Food Stores in Prince Albert, La Ronge, and Nipawin are proud to offer delivery and curbside pickup options for our Members. If you don't have a Lake Country Co-op membership, you can get one here: Become a Member

Please fill out our Online Order Form.
PLEASE NOTE: We'll confirm your order details and call you to provide you with a delivery or pickup window.
If an order is placed before 12 am, we will make every effort to deliver your order the next day. However, due to the current circumstances, we cannot guarantee next day delivery.
If you are picking up curbside, there are designated curbside pick up spots. Please look for the sign in the parking lot.
Our priority is to help vulnerable shoppers that are currently confined to their homes or in isolation.
Some important things to remember:
• All orders are to be paid by Credit Card or Debit Card at the time of delivery
• There will be a $12 fee per delivery or $6 Curbside pickup fee (plus applicable taxes)
• We deliver within city/town limits of location ordered
• Delivery and Curbside pickup are available Monday – Friday
• No hot food available at this time
• We are unable to accept refunds at this time
• All deliveries will be dropped off at front doorstep (unless specified) at assigned time
• There is no minimum order
Substitutions: The order form has an option to accept substitutions. If you click the 'yes' button for substitutions, we will make all effort to find similar product to the original one you requested.
i.e.: Ordered: Gala Apples. Substitution: Ambrosia Apples.
i.e.: Ordered: Heniz beans. Substitution: Centsibles Beans
i.e. Ordered 1% milk. Substitution: 2% milk.
If you do would not like substitutions, please click 'no' on the form.
For the weekly food flyer, please click here: https://www.food.crs/more/foodflyers. *PLEASE NOTE: If you are ordering Wednesday for Thursday pick up/delivery, please use the NEW WEEKLY FLYER to shop, as the prices will reflect that flyer.
Please click the "ORDER NOW" link to the location of your choice. If there is not an option for your closest location, please call your local Lake Country Co-op Store for inquiries about curbside pick up options.