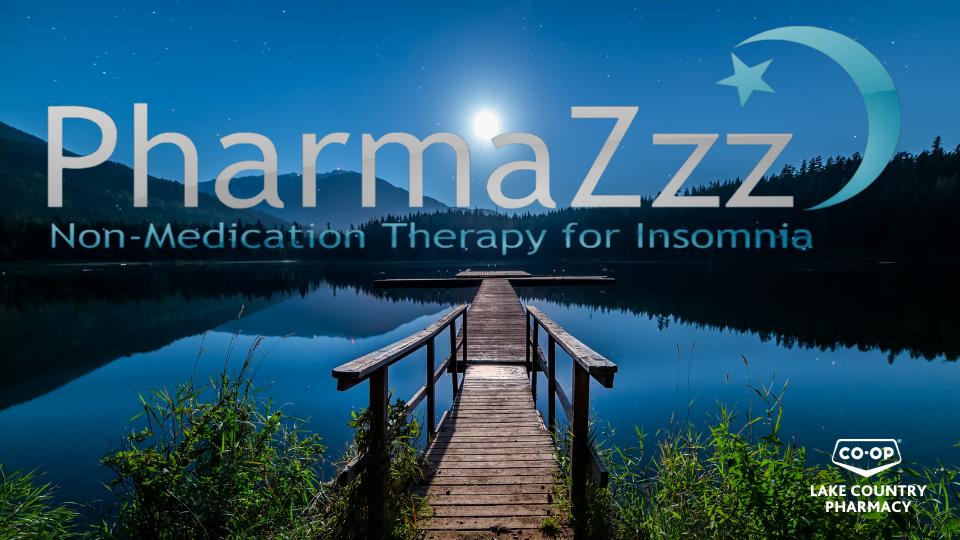 PHARMAZZZ
June 8, 2023
Do you want to have a good night's sleep without taking sleeping pills? Join us to discover a path to a good night's sleep.
Lake Country Co-op Marketplace Pharmacy is providing an in-person sleep management workshop called PharmaZzz. The PharmaZzz program explores non-medication therapy for insomnia. The program uses a combination of behavioral and cognitive therapy techniques to help manage insomnia without the use of sleeping pills. Techniques may include sleep restriction therapy, stimulus control therapy, sleep hygiene, basic cognitive therapy and relaxation techniques. These methods are proven to be more effective than sleep medications for long-term insomnia.
The program includes consultations and follow-up appointments with a specially trained pharmacist every two weeks for approximately six visits, depending on need. The pharmacist will work with you to individualize each appointment and will tailor therapy to meet your own personalized goals. The pharmacist will provide regular communication to your doctor or nurse practitioner throughout the program. Changes to your medication therapy will only be made in collaboration with you and your primary care practitioner.
On September 28, 2023 at 7pm, join us by attending a one-hour group session at the Marketplace Pharmacy located at 777-801 15th Street East, Prince Albert. The first session will provide an overview of the program as well as education on key concepts necessary to promote success with the program. Following this initial session, a pharmacist will schedule one-on-one sessions with you for the remainder of the program.
This in-person group session costs $25.00 to attend, and the remainder of the program is an additional $75.00, payable at the first individual session.
If you have any questions, please email pharmacy@lakecountrycoop.ca
Registration limited to first ten registrants. Deadline to register September 25, 2023.

Hope to see you there!
Sincerely,
Your Co-op Marketplace Pharmacists
Kristen Dobrowolski
Jesse Kapacila
Elaine Jacques