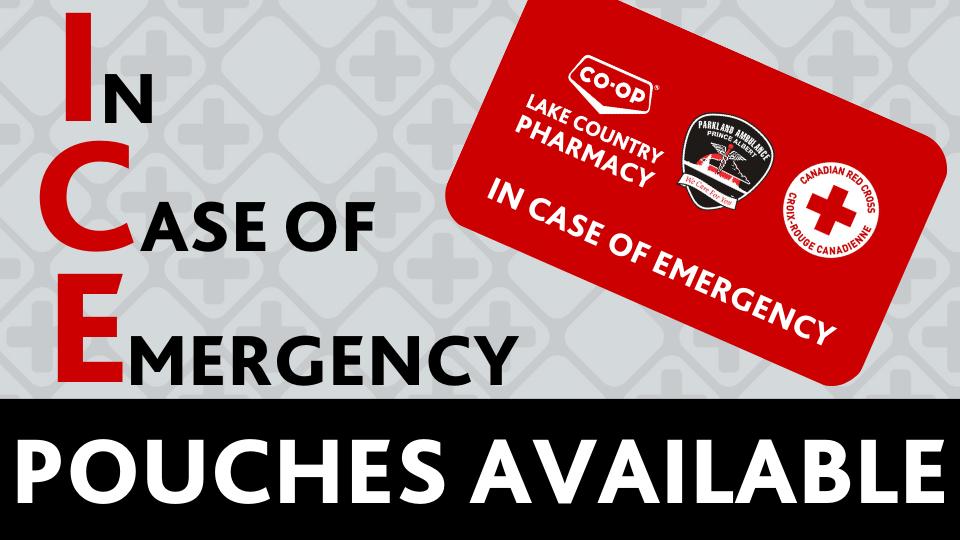 ICE POUCHES AVAILABLE NOW
July 18, 2023
Your safety is our priority.
Lake Country Co-op Pharmacies have partnered with Parkland Ambulance to deliver the ICE Pouch Initiative. ICE is an acronym for In Case of Emergency.
The ICE Pouch Initiative allows timely access to relevant vital medical information that will assist paramedics, first responders, and hospital staff to respond quickly and appropriately to a medical emergency.
This safety initiative is a summary of important medical information that is placed inside a red plastic pouch and stored in a highly visible location within the person's home. Paramedics will retrieve the pouch and access the information during a medical emergency visit to the person's home.
It is important that the information contained on the form is accurate and current. If you need help completing the form, ask your pharmacist or other health professional.
Be sure to store the red ICE pouch in a highly visible area of your home. We suggest keeping it on the door of your fridge or near your landline phone.
New ICE pouches or replacement information forms can be picked-up from Parkland Ambulance base located at:

225 24th St W.
Prince Albert, SK
S6V 4M8

Or one of our two Lake Country Co-op Pharmacies located at:

Marketplace
771 801 15th St E
Prince Albert, SK
S6V 0C7

Clinic
108 8th St E
Prince Albert, SK
S6V 0V7

Lake Country Co-op Pharmacies are happy to sponsor a program that supports high quality emergency care for Senior's and other vulnerable members of our community.