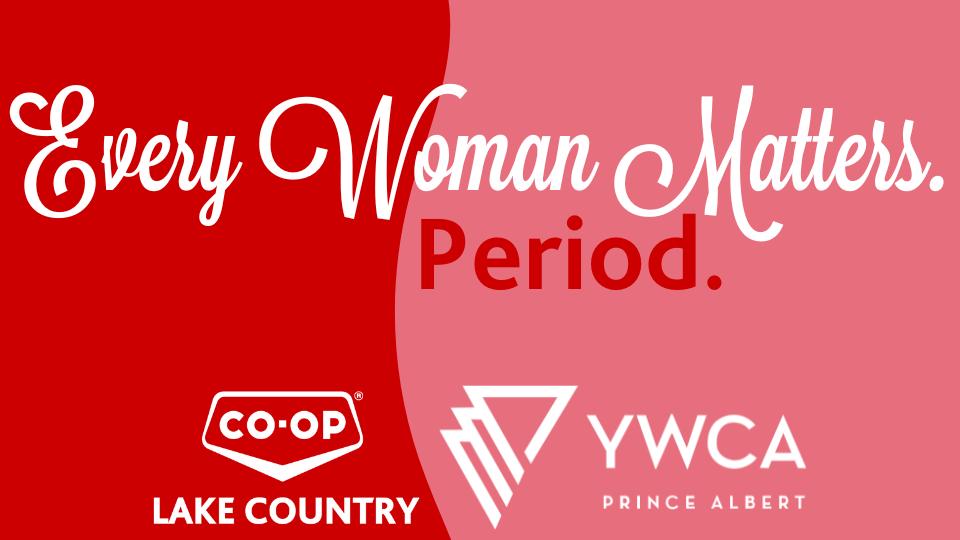 EVERY WOMAN MATTERS. PERIOD.
March 8, 2023
(Prince Albert, March 8, 2023) "Every Woman Matters. Period." campaign is an initiative from Lake Country Co-op Pharmacy to raise awareness about the need for feminine hygiene products for women supported by the YWCA Prince Albert. As part of the campaign, both Lake Country Co-op pharmacies located in Prince Albert along with the Prince Albert Food Store will be collecting donations to go towards feminine hygiene products. This year you can participate by donating money for a feminine hygiene kit or donating product. You can donate at both pharmacy counters or through the check out at the food store from March 8 – March 15.
"The rate of inflation has made it more difficult than ever to afford basic necessities, especially for those who are on low or fixed incomes. Having hygiene products on hand to meet the needs of our community helps those who struggle the most." said Jessie Kendall, Communication and Marketing Coordinator for the YWCA Prince Albert.
In an average year, there are more than one hundred women and female youth staying in YWCA shelters and homes, which adds up to tens of thousands of nights spent in programs each year. This means that there are approximately 13,000 days where sanitary supplies may be required. This doesn't include women who are part of non-shelter programs or who walk in from the street needing supplies.
"As front-line health professionals, we have seen a steadily increasing demand for basic self-care necessities throughout our community. Lack of access to feminine hygiene supplies has a far-reaching impact on the lives of the women that it affects," said Monique Zwack, Executive Director, Pharmacy and Customer Experience of Lake Country Co-op, "Partnering with the YWCA allows Lake Country Co-op Pharmacies to make a meaningful contribution to some of the most vulnerable in our community".
"We're grateful for everything that Lake Country Co-op does for us and the community—this campaign being just one of many." said Kendall.
With the help and support of the Prince Albert community, Lake Country Co-op is hoping to collect enough feminine hygiene products and donations to create feminine hygiene kits to help YWCA Prince Albert for the next few months.
About Lake Country Co-operative Association Limited
Lake Country Co-op is a retail Co-operative that has proudly served North Central Saskatchewan for over 80 years. Today, Lake Country Co-op serves more than 53,000 members – and many more customers – in 20 communities. In 2022, Lake Country Co-op returned $19 million to members and over donated $750,000 to local community organizations and initiatives.