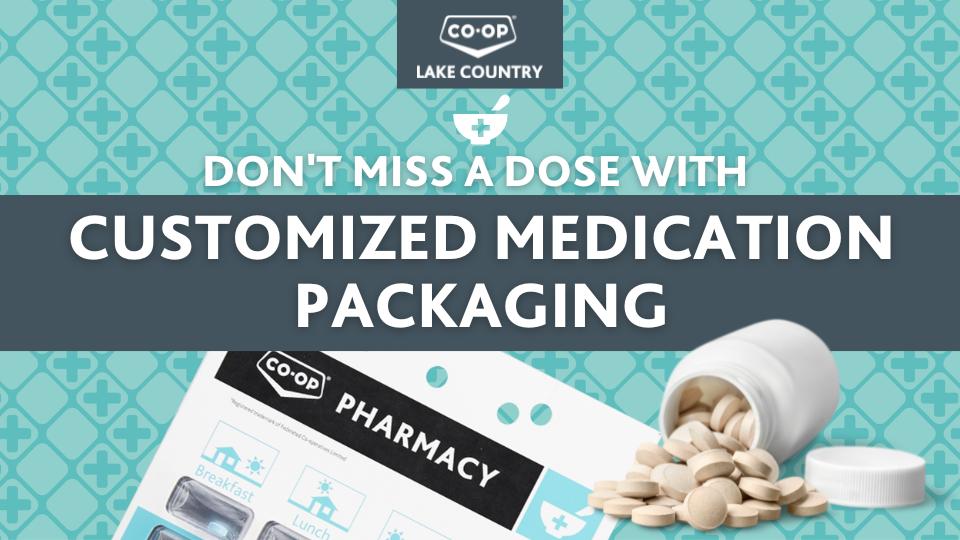 DON'T MISS A DOSE
January 19, 2023
Did I take my pills today? With compliance packaging this question will have an easy answer.

What is it?
Compliance packaging is a way to organize your medications. Instead of receiving your monthly medications in vials, they will come in your choice of a compliance packaging which includes traditional blister packs and the new pouch strip option. Your medications are pre-packaged by your pharmacy team, and labelled with the time and days of the week to keep you organized. In addition, synchronizing your medication dispensing dates has the potential to greatly reduce the number of times you need to visit your pharmacy each month.

How does it work?
Once a month your pharmacy team will assemble your compliance pack. Typically, these are done in four week increments. Your medication packages will be ready ahead of time for you. When it's time to take your medication, all you have to do is pop out the contents of the designated pod or pouch and take the medication from it.

Who's it for?
This is for anyone and everyone. Our goal with compliance packaging is to make managing your medications easier, no matter how many pills you take. Age doesn't matter. Anyone can benefit by switching from vials over to compliance packaging.

Compliance packaging offers peace of mind to those who can be stressed about taking their medications. It will ensure you don't miss a dose so that you get the most benefit from your medication therapy.

Which medications can go into this?
Almost all oral medications can go into compliance packaging. Your pharmacy team will review your medication regimen with you to make a plan that best suits your needs.

Is there a medication minimum?
No there isn't! Pharmacies have packaged from one pill up to twenty-three pills!

What styles do they come in?
We offer different styles of packaging to fit your needs, they are: pod style, book style and our Marketplace location also offers pouch strip packaging. Each style will offer the same benefit of organizing your medication according to when you need to take it.

What if I take a medication as needed?
If you take medications as needed, these will be dispensed to you in a regular prescription vial or a compliance package that is separate from your routine medications.

How much does it cost?
We offer compliance packaging at no extra cost. The only price you will pay is the current cost of your monthly prescriptions.

What if my medications change?
No worries, we will adjust your compliance packaging to ensure they are the most up to date with any changes that have been made.

What are the benefits?
• Safer medication use
• Getting the most out of your medications
• Less trips to the pharmacy
• A yearly medication review with our pharmacists. This ensures that your medication therapy is optimized and tailored to your health goals.

Talk to your Lake Country Co-op pharmacy team to organize your medications today.

Co-op Marketplace Location (Cornerstone)
777 – 801 15th Street East
306-764-6464
Monday to Friday: 8am-7pm, Saturday 9am-6pm, Sunday 10am-6pm
Co-operative Health Centre Location
110 – 8th Street East
306-953-6249
Monday to Friday: 8:30am-5pm, Closed Saturday and Sunday