WIN YOUR ROOFING CONTEST IS BACK
Actions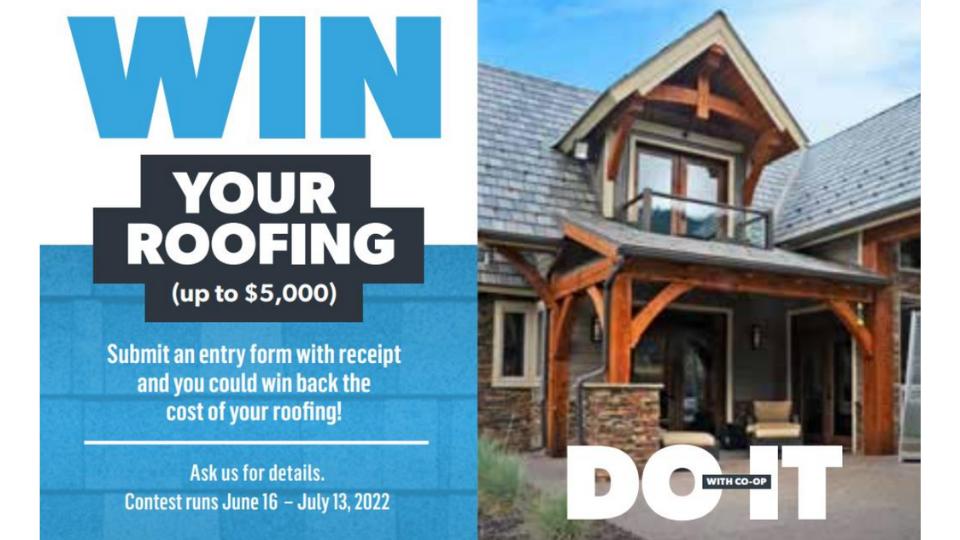 WIN YOUR ROOFING CONTEST IS BACK
June 17, 2022
The Win Your Roofing Contest is back at our Home Centre locations! Customers who purchase roofing during the promotion period will be eligible to enter the draw to WIN BACK the cost of their purchase up to a maximum of $5,000.
Contest Dates

June 16 – July 13, 2022
Eligible Products

Eligible products that qualify for this promotion include all asphalt or metal roofing material from IKO, Westman Steel, and Vicwest and the supporting products (ridge caps, starter strips, underlay, nails and screws) to complete installation. Installation charges and delivery fees do not qualify for this promotion and will not be refunded.

*All eligible items must have been purchased on the same invoice
How Customers Enter

By Mail: Complete the provided entry form (ask in-store) or print your name, address, city/town, postal code, phone number, email address, Co-op Store Name and Skill Testing Question on a blank ballot and mail along with a valid Co-op Home Centre receipt that indicates a purchase of Qualifying Product(s) to:

Co-op "Win Your Roofing" Contest, PO Box 1050, Saskatoon SK, S7K 3M9

All entries must be post marked on or before July 15, 2022 and received on or before July 22, 2022 (the "Mail-in Contest Closing Date").