Western Nations Gas Bar Coming Soon
Actions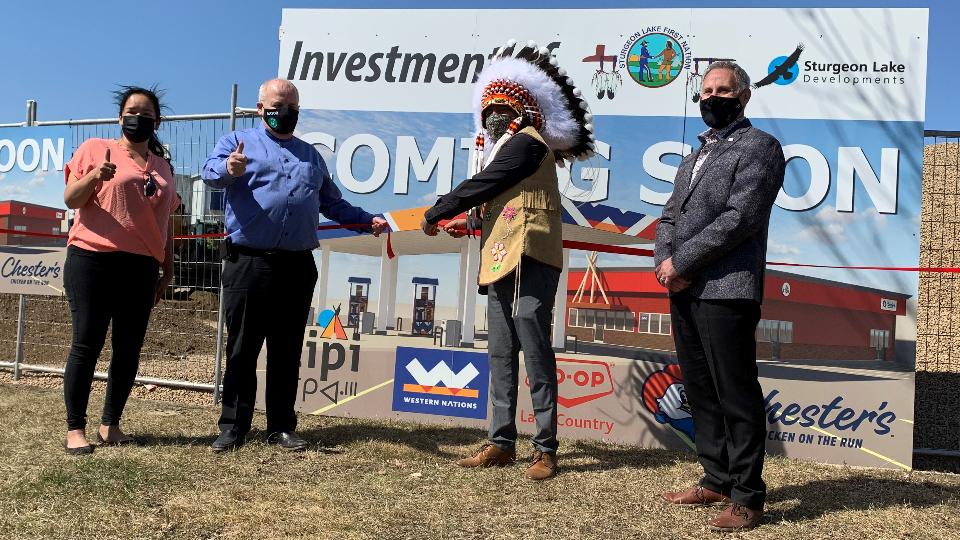 Western Nations Gas Bar Coming Soon
April 21, 2021
Lake Country Co-op partners with Sturgeon Lake First Nation

Prince Albert (April 21, 2021) – Sturgeon Lake Developments Ltd. and Sturgeon Lake First Nation Leadership is proud to announce the construction of a brand-new Western Nations Fuel & Convenience store in Prince Albert. Lake Country Co-op is proud to partner with Sturgeon Lake Developments Limited in this new project providing support and supply on this new business venture.

The Western Nations brand was developed by Federated Co-operatives Limited (FCL), in consultation with Indigenous leaders and communities across Western Canada, as a means to provide an opportunity for First Nations communities to own and operate their own fuel stations while being supplied and supported by Co-op.

The Western Nations Tipi Fuel and Convenience, which will be located on the corner of 15th Street and 10th Ave East, is part of a growing network of independent, locally owned Indigenous Western Nations gas bars that are modern, unique, relevant to all customers and respectful of Indigenous culture.

Through the Western Nations Gas Bar, Lake Country Co-op and Sturgeon Lake Development will work together to develop a mutually beneficial relationship built on shared values which include supporting our strong vibrant community. Sturgeon Lake Developments will own and operate the facility, while Lake Country Co-op will provide product and services to support their success. This support includes a facility design program, brand association, uniform program, promotions, maintenance, and management assistance.

"Community support is an important value of Lake Country Co-op and partnering with Sturgeon Lake Development to create a Western Nations Gas Bar right here in Prince Albert is a great investment for our communities" said Tim Keller, CEO of Lake Country Co-op, "The Western Nations Gas Bar will create employment, career development opportunities and economic spin-offs in addition to providing access to numerous supports including the unique Community Building Assistance Program which will allow the communities of Sturgeon Lake First Nation to receive funding for community infrastructure, programming and events."

The Western Nations Gas Bar will provide customers with high quality products and services, including Top Tier certified gasoline, Premium diesel, propane, lubricants, convenience store items and a Chester Fried Chicken offering.

This is an exciting partnership with the Sturgeon Lake First Nations community and we are proud to work together to build and invest in the future success of our communities.