Saskatchewan's Inclusive Employer of 2022
Actions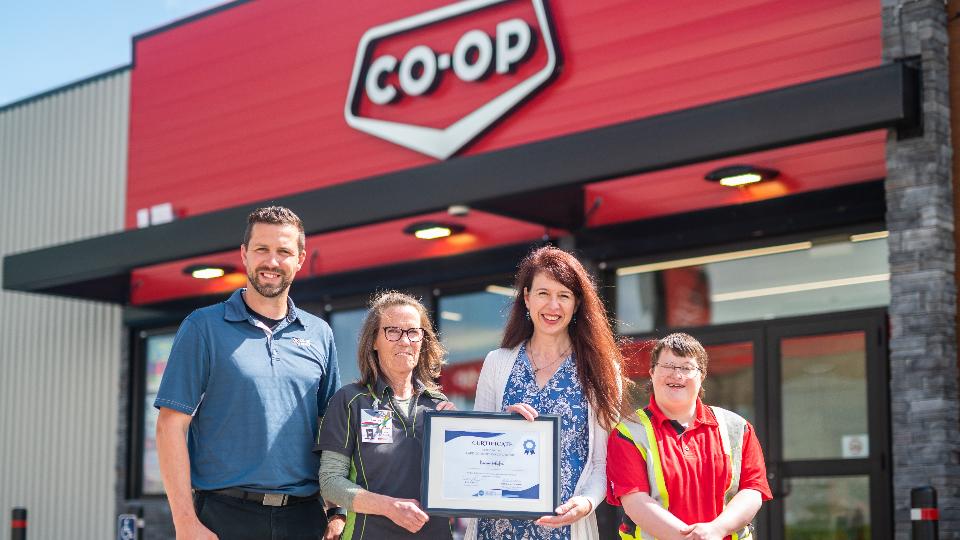 Saskatchewan's Inclusive Employer of 2022
August 2, 2022
We are thrilled to announce that our Spiritwood team leaders, Michael Sarrazin and Karon Abdai have been awarded the 2022 SK Inclusive Employer award in recognition of their commitment to inclusive employment through support of their team member, Megan Allard.
Megan has been a Lake Country Co-op team member since the opening of the new C-store in December of 2021. Since that time, Michael, Karon and the team have gone above and beyond to ensure that Megan's role is not only meaningful to Megan but also to her coworkers. They have supported her through an inclusive training process and provided a space for her to grow within her role and as an individual. To date, Megan has surpassed all expectations and is excelling in her role. Her favourite part of the day is helping at the till and getting to talk to the community of Spiritwood!

Diversity and Inclusion is a priority for Lake Country Co-op. We take pride in creating a welcoming environment that promotes inclusiveness and social responsibility. We believe that providing an exceptional experience to our team members positively impacts each customer experience which in turn enhances the success and vibrancy of our communities.
We are so honoured to have Megan, Michael, Karon and the whole Spiritwood team a part of our Lake Country Co-op family, keep up the great work!