National Day for Truth and Reconciliation
Actions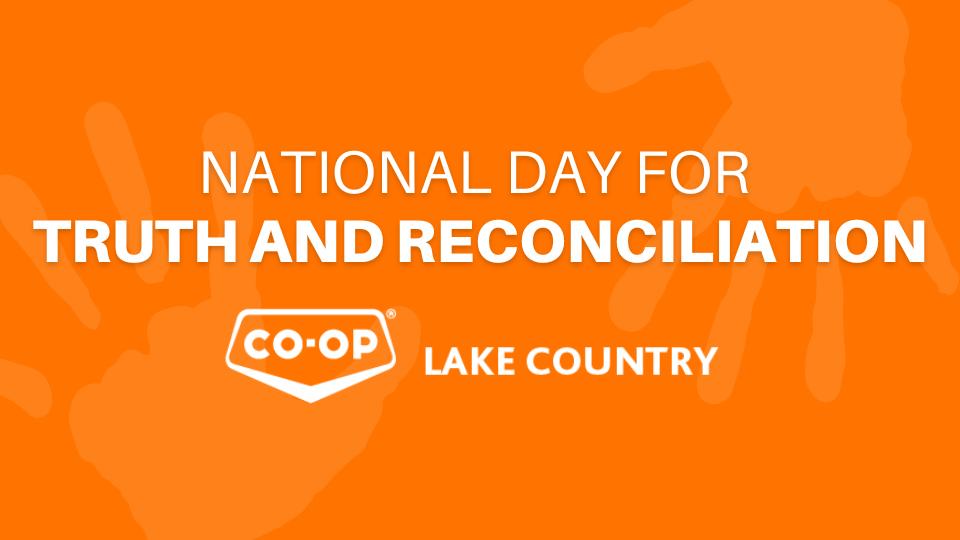 National Day for Truth and Reconciliation
September 15, 2022
National Day for Truth and Reconciliation
September 30 marks the National Day for Truth and Reconciliation, a day for Lake Country Co-op employees and our communities to remember, reflect and engage in acts of reconciliation.
Lake Country Co-op team leaders have engaged in cultural awareness training over the past year and our commitment to continued training and awareness will continue in the coming year. We hope that through transformative learning about Truth and Reconciliation a renewed relationship with Indigenous communities will continue.
For a second year, Lake Country Co-op will be selling Every Child Matters buttons starting on September 15. Buttons will be sold for a minimum donation of $2.00 and the proceeds will be donated to the Prince Albert Indian Metis Friendship Centre, Kikinahk Friendship Centre in La Ronge and the Nipawin Oasis Community Centre Co-operative Ltd. In addition, Lake Country Co-op will be making a donation to match the net proceeds from the button sales. Buttons are available at all Lake Country Co-op locations with the exception of Canwood Ag, Choiceland Ag, White Star and Elevator Road.
September 30 will be recognized as a statutory holiday for Lake Country Co-op locations. Stores will be operating with holiday hours. The Prince Albert Administration office will be open.
Our Teams are encouraged to reflect and participate in events that recognize the impacts and legacy of residential schools. We look forward to the continued development of relationships with Indigenous Peoples and their communities based on mutual respect and trust.
Orange Shirt Day
Lake Country Co-op will also recognize September 29 and 30 as Orange Shirt Day. The acknowledgement of this day gives us all the opportunity to recognize and commemorate the tragic history of residential schools, and to participate in conversations to create bridges for reconciliation.