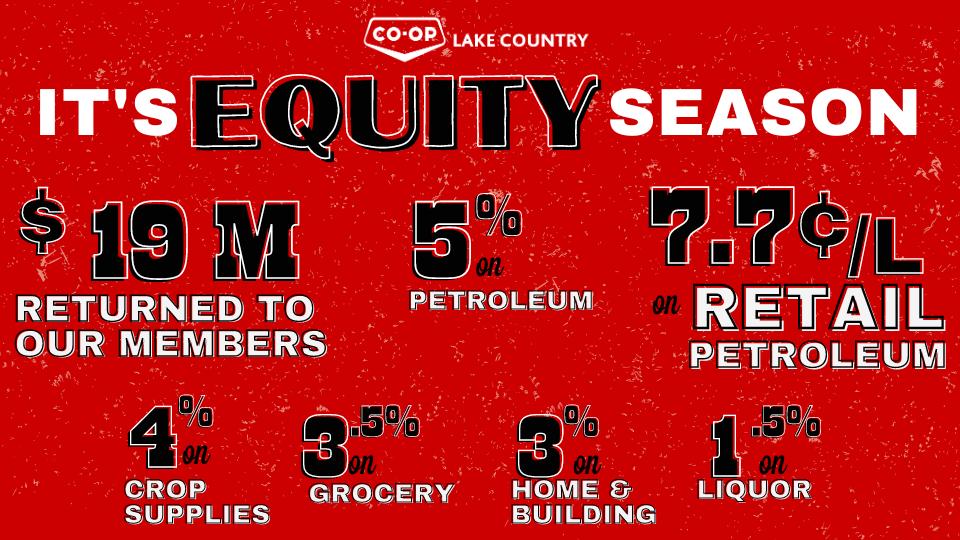 It's Equity Season!
April 13, 2023
It's the best time of year for our Lake Country Co-op Members, also known as equity cheque time!
Lake Country Co-op is proud to announce that we are giving back $19 million in patronage to our members for the 2022 year! Equity cheques are currently in the mail and should be arriving to your mailboxes soon. Our Board of Directors approved allocation rates of:
At Lake Country Co-op, we are a different kind of business. 100% of our profits stay right here in North Central Saskatchewan. We are locally owned and operated and invest funds back into the communities we serve. Located in 20 communities, in the heart of Lake Country, with over 53,000 members, we are what local is all about.
Lake Country Co-op is truly a local business, and we are proud to be able to give back to causes that are important to our members and their communities.
Please note: We kindly ask that all equity cheques be deposited into your personal banking account as we are not able to accept equity cheques at Lake Country Co-op locations.
Not a Lake Country Co-op Member?
Become a Lake Country Co-op member today for $10 and start earning equity on your purchases. Click here to get your membership today.