Homes by Lake Country is Officially Open
Actions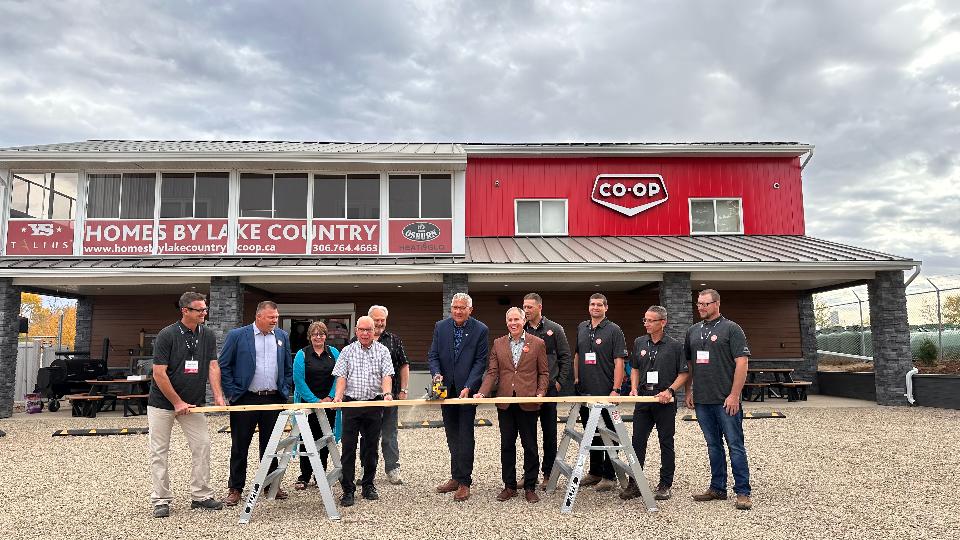 Homes by Lake Country is Officially Open
September 28, 2023
We have officially expanded our Ready to Move (RTM) Home and custom-build presence in North Central Saskatchewan, 5 minutes North of Prince Albert on Highway 2 off the Red Wing Service Road. We have been building RTM's for over thirty years and offer a diverse and customizable selection of plans that help turn dream homes into reality. Our new Homes by Lake Country location provides a professional space to design, consult, and view the progress of your build. This addition will significantly expand our presence in the RTM industry to serve cottage country and surrounding communities. This will ensure the capacity to meet the growing needs of our members and customers now and into the future while providing superior product selection and services.
The new location covers six acres of land and will house state-of-the-art RTM show homes. The location boasts a spacious 5,000 square foot show room that includes a custom design center where customers will be able to see and touch the wide selection of cabinets, blinds, windows, countertops, faucets, and so much more. Customers will also be able to browse top of the line home and design features not available elsewhere in North Central Saskatchewan, like Yoder Smokers, Heat & Glo fireplaces, and outdoor living pieces by Berlin Gardens.
The showroom also features a selection of high-end tools and accessories to equip the most discerning contractor. In addition, Homes by Lake Country will be offering supply and installation on select projects, as well as continued winter storage for boats, trailers, RVs, and more.
Customers can expect the same high level customer service at this location that they have come to expect at all Lake Country Co-op locations. The team at Homes by Lake Country has the knowledge and expertise to help anyone plan, design, build or renovate their dream home. Our qualified design team facilitates development of custom blueprints for every single project which allows customers to see their project plans come to life.
Explore the Show Room
The 5000 square foot show room allows customers to interact with the endless possibilities for their new home or renovation. The comprehensive show-room contains a seemingly endless display of faucets, showers, vanities, cabinets, ceiling options, siding, roofing, fireplaces, stone finishes, fences, flooring, light fixtures and more. A kitchen, bathroom, and laundry showroom have been constructed to allow optimal visualization of customizable home features. The luxury show room allows Lake Country Co-op customers to be confident in both the esthetic appeal and craftsmanship of available products.
The show room carries a wide variety of brands like Berlin Gardens, LP SmartSide, AllWeather Windows, Trex, Moen, Occidental Leather, Typar, Osburn, The Outdoor Great Room Company, Yoder Smokers, Talius, Heat & Glo, Gentek, and more.
The fireplace showroom features Heat & Glo options for natural gas and wood-burning fireplaces. Homes by Lake Country is the only place in North Central Saskatchewan supplying these beautiful, high-quality fireplaces.
Homes by Lake Country, along with our other Home and Building centres, carry Whirlpool kitchen appliances including refrigerators, ranges, laundry pairs, and dishwashers.
Homes by Lake Country is the only Yoder grilling/smoker/BBQ dealer in North Central Saskatchewan. Whether you're the weekend grilling master or just starting out, they have the perfect Yoder for you. The Yoder Y540S model was voted the best pellet grill in 2023 and is available at Homes by Lake Country right now.
Store hours are:
Monday through Friday 7:00am — 6:00pm
Saturday 8:00am — 5:00pm