Every Woman Matters. Period.
Actions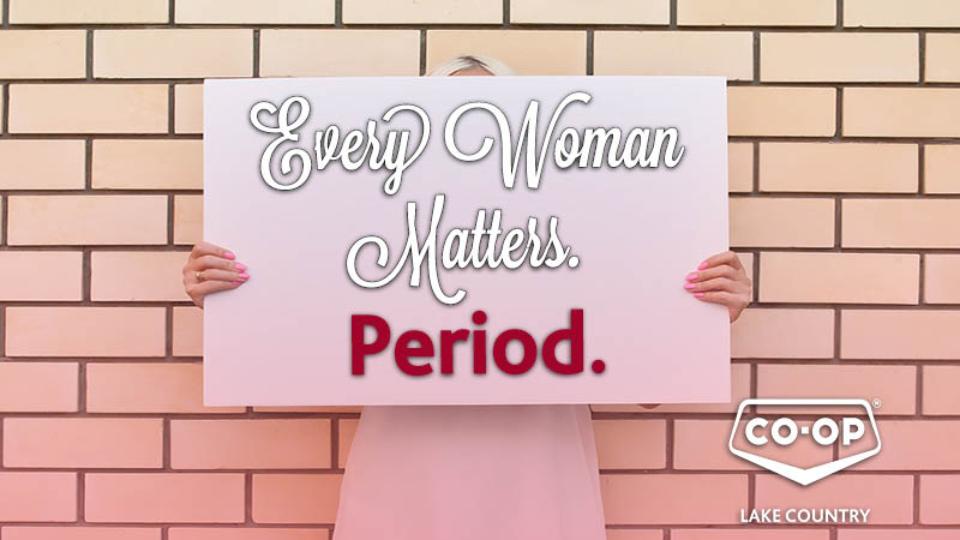 Every Woman Matters. Period.
October 25, 2019
Every Woman Matters. Period.
Prince Albert (October 25, 2019) — "Every Woman Matters. Period." campaign is an initiative from Lake Country Co-op Pharmacy to raise awareness about the need for feminine hygiene products for women supported by the YWCA Prince Albert.
As part of the campaign, both Lake Country Co-op pharmacies located in Prince Albert will be collecting donations of feminine hygiene products in front of their pharmacy counters from October 28st to November 9th.

"The women that YWCA Prince Albert serves often need access to hygiene products until they can get on their feet and obtain assistance." said Jesse Kendall, Communications and Marketing Coordinator for the YWCA, "Female youth are also served by YWCA Prince Albert, and require access to hygiene products so that they can participate in school and in life. Hygiene products provide freedom, comfort, and cleanliness for women during menstruation, which allows them to take part in life all the time, not just during times where menstruation is not happening."

YWCA Prince Albert programs are regularly running at capacity. On average, there are approximately seventy-three women and female youth staying in YWCA shelters and homes, which adds up to approximately 26,000 nights spent in programs each year. This means that there are approximately 6,600 days where sanitary supplies may be required.

"The Lake Country Co-op Pharmacy Team is excited to support this tremendous need in our community," said Monique Zwack, Pharmacy Director of Lake Country Co-op, "This initiative is creating an opportunity to acknowledge a topic that people seem uncomfortable talking about."

With the help of the Prince Albert community, Lake Country Co-op Pharmacy is hoping to collect enough feminine hygiene products to help YWCA Prince Albert over the next few months.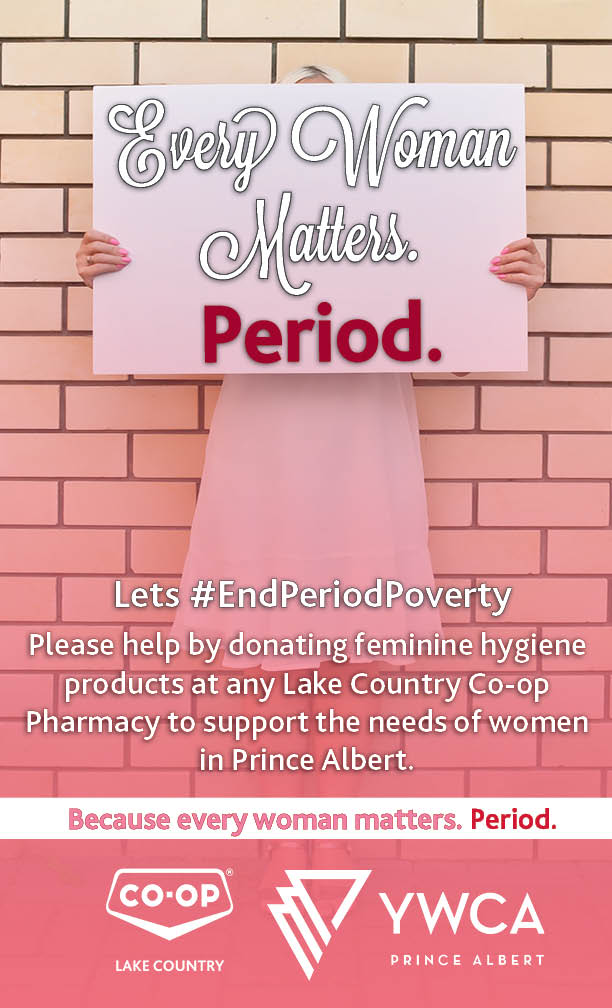 About Lake Country Co-operative Association Limited
Lake Country Co-op is a retail co-operative that has proudly served Northern Saskatchewan for more than 79 years. Today, Lake Country Co-op serves more than 40,000 members — and many more customers — in 16 communities. Since 2014, Lake Country Co-op has returned more than $24 million to its members in cash back and equity, while contributing over $1.8 million to community organizations and initiatives.

For more information:
Jill Dumanski
Director, Marketing & Community Relations
Lake Country Co-op
Email: jill.dumanski@lakecountrycoop.ca
Discover more: