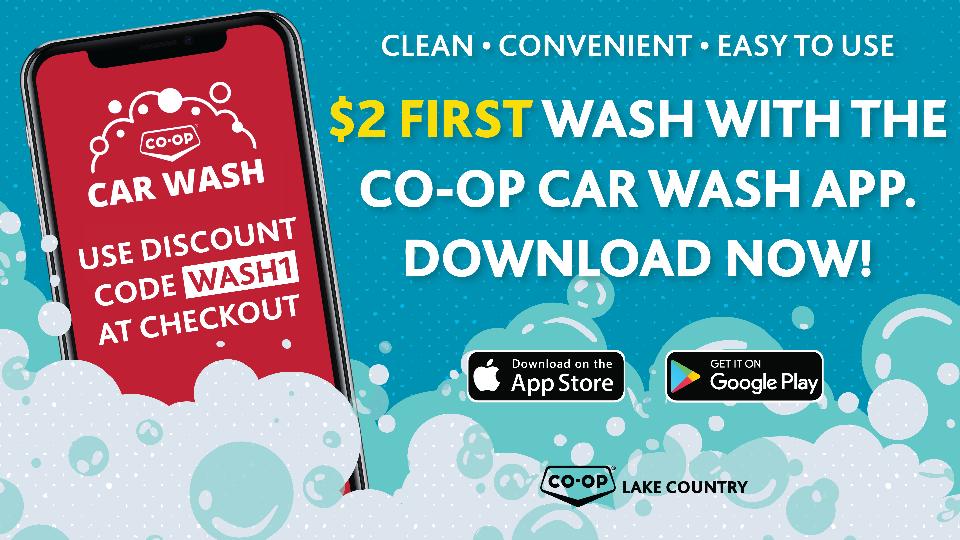 Car Wash App
October 29, 2021
How does earning reward points for washing your car sound? Especially when you can turn rewards into free washes. Lake Country Co-op is enthused to launch the Co-op car wash app at the following locations: Prince Albert Cornerstone, 2nd Ave, Marquis, and Nipawin C-Store.
The Co-op car wash app is simple, secure, and contactless - just tap the app and buy a wash!
You can instantly purchase a single wash and use it right away, or save it for later. When you purchase a single wash, you earn reward points that turn into free washes. Cleaning your vehicle has never been more convenient.
Do you frequently wash your car and want to save money on your washes each month? If so, you can receive 4 washes for the price of 2.5 when you take advantage of our monthly subscription package. There is nothing better than discounted wash prices and having a clean car all year round. You can activate the subscription from the comfort of your own vehicle. You can upgrade or downgrade your subscription anytime.
You can even earn bonus reward points by sharing the Co-op car wash app with friends and family.

To celebrate the launch of Lake Country's Co-op car wash app, download the app today and receive your first wash for $2 using code "WASH1" at any participating Lake Country Co-op car wash.

FAQ
How do I earn bonus rewards?
Share the Co-op Car Wash app with friends and family by clicking on the My Profile tab and sharing the app via email, text or social media.
My code won't load, what should I do?
Retrieving a code can take up to 10 seconds to load. Don't exit the code-loading screen while waiting for a code to appear. If a code is taking longer than 10-15 seconds, close the app and try again.
Subscription FAQ
How do I activate a wash with my subscription?
The Co-op Car Wash App will only release a subscription code when you are at a Lake Country Co-op car wash location. Simply tap "Wash My Car" in the app to receive a code you'll enter on the car wash terminal's keypad.
How many washes am I able to use per month with my subscription?
You're able to use up to four washes per monthly billing cycle. You can view the date that your subscription renews on the Wash tab under the subscription name (Example: Under Extreme Touchless Subscription it will say "Renews on MM/DD"). You can also view the number of washes you have remaining in the grey oval under this information.
Do my unused subscription washes carry over to the next month?
After each billing period, your wash amount will reset to four washes. Unused washes don't carry over.
How can I wash my car if I use all of my subscription wash codes?
You're able to purchase a single wash at any time under the Search tab. Once you're there, select the first location and select "Buy Wash" on your preferred wash offering.
Do I get rewards points from the subscription program?
Rewards points are only earned on single-sale wash purchases.
What is the subscription billing period?
Your subscription will charge your credit card at the time of purchase and then subsequently on the renewal date, which can be found on the Wash tab under the subscription name (date of purchase on the following month).
How can I cancel my subscription?
You can cancel your subscription under the Codes tab of your app. Tap "Subscriptions" in the top right corner then select "Cancel Pass". You'll be able to use the remaining washes in your subscription until the end of your billing period, at which point your subscription will not be renewed.
What is the length of a monthly subscription?
Subscriptions will renew monthly from the time of purchase. For example, if purchased on April 4th at 2:10pm, the subscription will automatically renew on May 4th at 2:10pm and again on June 4th at 2:10pm unless cancelled earlier by the customer.
Please carefully read these Terms and Conditions before downloading the Co-op car wash app.