Birch Hills Wins Fuel Up My Town's $25,000
Actions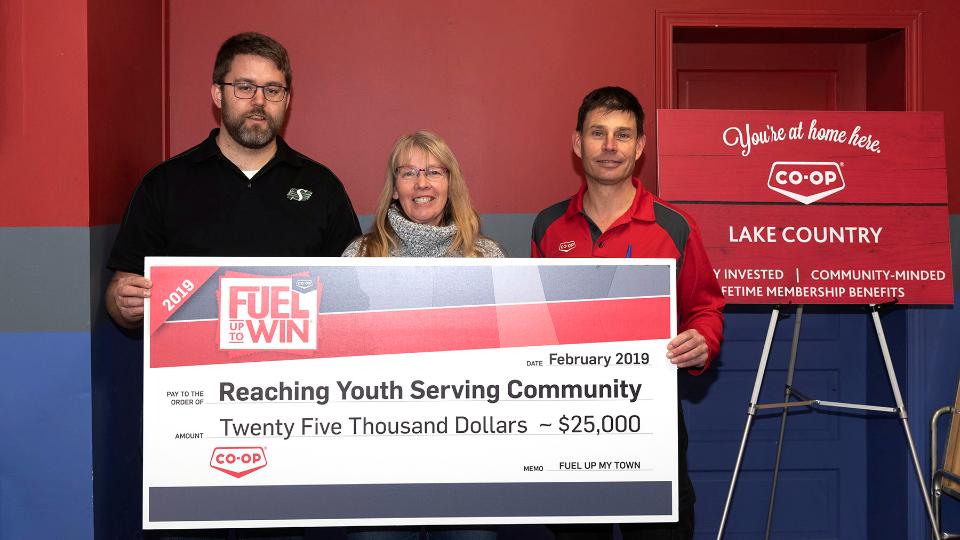 Birch Hills Wins Fuel Up My Town's $25,000
February 22, 2019
Lake Country Co-op is excited to announce that the recipient of the $25,000 Fuel Up My Town community donation is the non-profit organization RYSC in Birch Hills!
For the official news release, see below.
Birch Hills wins $25K donation in Co-op contest
PRINCE ALBERT (Feb. 22, 2019) – Never count out a small town with a big heart when it comes to rallying people together. Thanks to voting, Birch Hills, Sask., won a $25,000 community donation from Co-op through the Fuel Up my Town contest.

Lake Country Co-op made the donation to Reaching Youth Serving Community (RYSC), a community-based non-profit that helps show youth how to be involved in their community. The organization plans to expand the skate park and community gardens built a few years ago to include outdoor washrooms and a camping gazebo.

"Lake Country Co-op is extremely happy for RYSC and the Town of Birch Hills to receive this donation," said Lake Country Co-op CEO Dean McKim. "RYSC is a great non-profit organization that truly gives back to their community by teaching youth the importance of growing and strengthening our community. We so excited to be a small part in the community park development with RYSC."

Last November, Western Canadians could share the hashtag #FuelUpmytown on Facebook, Twitter and Instagram to vote for their community to be placed on the 2019 Fuel Up to Win game card. The community donation was presented to the town or city with the most mentions.

RYSC is helping make Birch Hills a safe and enjoyable place for families and created spaces for all to enjoy. Kathy Evans said the group was thrilled to learn or the donation.

"Residents, families and friends really got behind this contest," said Evans. "It was an excellent idea form the young man who asked a question and an excellent response from Co-op to have some fun and include communities from across Western Canada."

The contest was inspired by eight-year-old Devin Dreger, who realized that his hometown was not on the Fuel Up to Win game card last year. When he told his parents and an employee at his local Co-op, they suggested that he do something about it.

"To the Company of Co-op," Devin wrote in a handwritten letter, "I saw there was no Oak Bank, Manitoba, for Fuel Up to Win. I was thinking you could put it in next year."

Thanks to Devin – and voting – Oak Bank is on the game card this year. In total, there were 562 communities nominated throughout the contest period, with the top 25 making it onto the game card.
Now you have a chance to win with Co-op's 2019 Fuel Up to Win promotion. For more details about Fuel Up to Win, or to learn more about Devin and the #Fuelupmytown contest, visit fueluptowin.ca.

About Lake Country Co-operative Association
Lake Country Co-op is a retail co-operative that has proudly served north central Saskatchewan for more than 78 years. Today, Lake Country Co-op serves more than 39,500 members — and many more customers — in eighteen communities. Since 2014, Lake Country Co-op has returned more than $30 million to its members in cash back and equity, while contributing over $1.9 million to community organizations and initiatives.

Discover more: