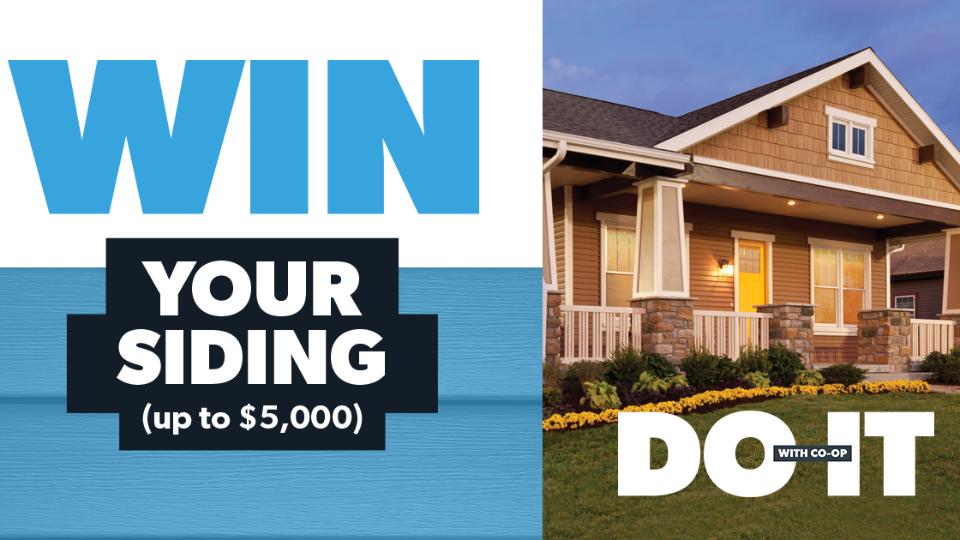 Win Your Siding
July 28, 2022
It is time to Win Your Siding purchase back! From July 28 — August 24, 2022 all qualifying siding purchases will be entered to win up to $5000 of your purchase back.
Eligible Products
Eligible products that qualify for this promotion including siding materials and supporting products (screws, underlay, etc.) from approved system suppliers. Please note that installation charges and delivery fees do not qualify for this promotion and will not be refunded.
*All eligible items must have been purchased on the same invoice.
How to Enter:
By mail: visit a Lake Country Co-op Home Centre location, complete the entry form or print your name, address, city/town, postal code, phone number, e-mail address, Co-op store name, skill testing question and mail along with a valid Co-op Home Centre receipt that indicates a purchase of qualifying product(s) to:
CO-OP "WIN YOUR SIDING' CONTEST PO BOX 1050
SASKATOON SK
S7K 3M9
Or Fax 306-244-3403
In-store Ballot Box: same process as outlined above, the only difference is customers can drop off the entry forms in the ballot box in-store at the local Co-op and the local Co-op will be responsible to forward these to the mailing address above.
There are no featured stories at this time.