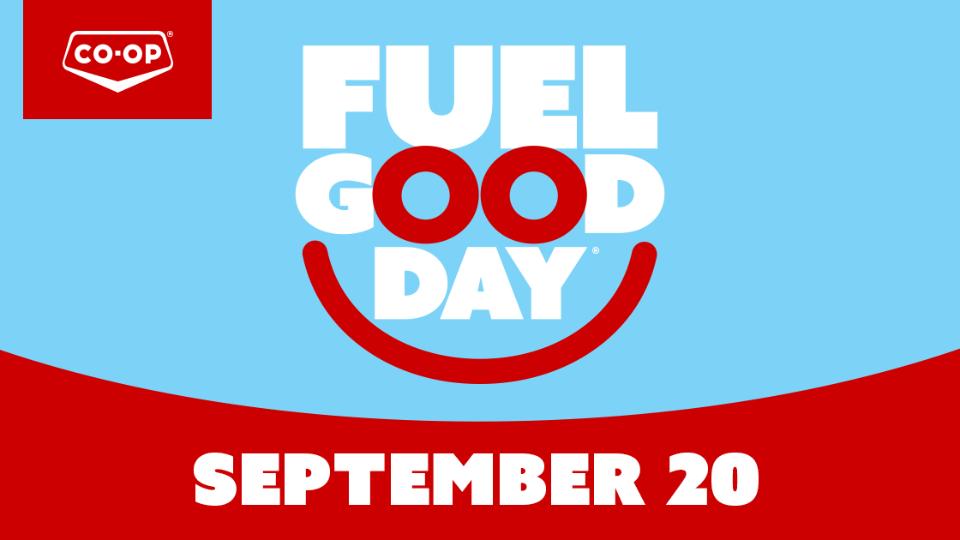 FUEL GOOD DAY 2022
August 29, 2022
Fuel Good Day is back on September 20th!⛽
On September 20th, when you fuel up at a Lake Country Co-op location in Prince Albert, Air Ronge, La Ronge, Wakaw, Ambrose, or Nipawin, you'll be helping support a local charity/nonprofit organization in each of these communities!
Lake Country Co-op will donate 10¢ per litre of fuel sold and $1 from every Co-operative Coffee or Big Cool purchased at these gas bar locations to the deserving charity/nonprofit organizations listed below:
2022 Fuel Good Day Recipients:
Hope's Home — Prince Albert
Hope's Home provides necessary care for children with complex medical needs, their siblings and typically developing children in the community. From Early Learning & Childcare services to their Supportive Living homes, their inclusive services provide a place for all children to grow in a loving and supportive environment. Their integrated Early Learning program includes pre-school services and after school programs that are medically safe and developmentally appropriate for all age groups and learning stages. Their Prince Albert location center ranges from infant to after school, making sure that ALL children that attend are fully integrated into the program.

MADD — Prince Albert

Mothers Against Drunk Driving (MADD) is a charitable, grassroots organization that is committed to stopping impaired driving and supporting the victims of this violent crime.

NorthSask Special Needs — Air Ronge/La Ronge

NorthSask Special Needs provides programming and housing for adults with cognitive disabilities in La Ronge. Their Day Program is located at 207 La Ronge Ave and runs Monday through Friday. Their hope is to build a shop to provide employment opportunities for NorthSask Special Needs clients. NorthSask Special Needs also operates a Group Home in La Ronge for adults with cognitive disabilities as well as a Supported Independent Living Program. They strive to facilitate safe and appropriate housing, meaningful employment, and rewarding educational activities.
Little Minnows Daycare Centre — Wakaw

Little Minnows is a licensed, community early learning childcare facility that provides quality early learning programming to individuals for families in and around the community of Wakaw, SK. They are committed to providing accessible, quality childcare services to assist all individuals and families in completing their education and/or being active participants of their community work force. They believe in fostering the holistic development of young children, offering a wide range of activities that promote this.

Minor Ball — Wakaw
Wakaw Minor Ball hosts an excellent program that runs from April through June under the umbrella of Softball Saskatchewan. There are 75 - 85 participants yearly that make up teams from U5 up to U13. Their focus is on skills and social development and has many volunteers. Wakaw Minor Ball is the guardian of the two ball diamonds in the community and are responsible for maintenance and upgrades.

Christopher Lake Public School Reading Program — Ambrose
Many of the students at Christopher Lake Public School are second, third, and fourth generation. Their school building and grounds act as a meeting place for after hour events in the community- be it sporting events or families that gather to use the playground. The school works hard to meet all students where they are and help them gain learning experiences that will help them in their lives. With reading being the foundation for all learning, CPLS is rebuilding their At Home Library for their beginning readers.

Rotary Club — Nipawin

The Rotary Club of Nipawin shares a vision of building a healthy organization that creates a bridge for the needs of their community on a local level. Their motto is Service Above Self. The club is actively involved in the community by participating in literacy projects, providing high school graduation scholarships and funding for local youth to attend leadership & personal development events, donating to local projects like the Nipawin Pool, Skate Park and Spray Park, etc. and they work with other community organizations. Their current big project is refurbishing the East Pleasantview Park for all community members to enjoy.

There are no featured stories at this time.